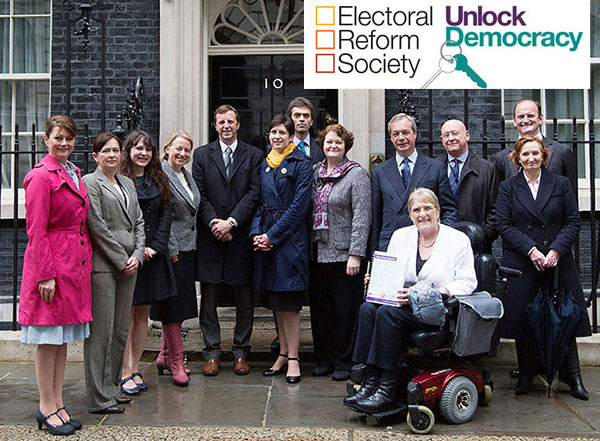 Dear Geoffrey,
Thanks again for signing the Make Seats Match Votes petition. Your voice has helped us show the strength of support for a more proportional voting system after this spectacularly unfair election result.

On Monday, we took the petition to Downing Street with nearly half a million signatures and the support of five parties from across the political spectrum.

We've assembled a rainbow coalition in support of a fairer voting system - it's not often you see the Greens, Liberal Democrats, Plaid Cymru, UKIP and SNP on the same side. Thanks to you, we've delivered the message loud and clear: this must be the last election where the seats don't match the votes.

This isn't the end for our campaign for voting reform. At Unlock Democracy and Electoral Reform Society, we teamed up to call for fairer votes because we share the goal of building a better democracy. In the coming weeks, we'll both be letting you know more about the next steps for our campaigns. We hope you'll stay in touch!
(photography: Anna Gordon)
---